---
More urgent than ever:
!!! Travelers' Alert !!!
There is no freedom of speech in Germany today!
(There is only freedom for PC-grovel.)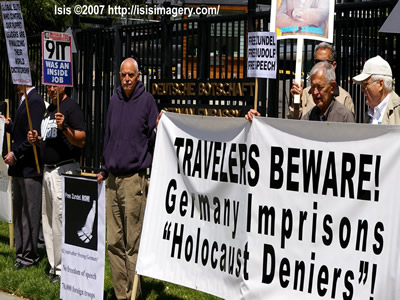 Germany's Holocaust Dogma Enforcers
kidnap and imprison Holocaust Skeptics
at the behest of the Zionist Lobby!
Shame on Germany for their detested Holocaust Lobby Protection Paragraph (Paragraph 130) imprisoning revisionist researchers for "thought crimes"! Weg mit dem verabscheuten deutschen Gesetz zum Schutz der Holocaust-Lobby (§130), mißbraucht zur Inhaftierung von Revisionisten wegen "Gedankenverbrechen"!!!