Ernst Zündel
needs your support! Please visit the donation page.
Subscribe to our
world-famous
ZGrams
---
Prison Letters
Article Archive
ZGram Archive
Court Documents
Other Languages
Other Websites
Search
Contact us
---
Now available: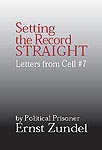 Find out who this "premier thought criminal" really is - how he thinks, how he writes, what he's really saying! You will be astonished to learn why this man is so feared by the world's manipulators of your thoughts!

Order form:
- HTML format
- PDF Format
"Some US prisons are no better than Abu Ghraib or Guantanamo Bay"
A recent Zundel letter to his wife, Ingrid Rimland
The radio is full of a story about that US GI who terrorized some Iraqi prisoners in Abu Ghraib. With dogs! He is supposed to get 8 1/2 years in prison. I will believe it once I see it enforced. The US has been notoriously lax when it comes to dealing with US war crimes.
But, Ingrid, that means this is one serious crime according to US law. We are talking about US soldiers in war, overseas, siccing their dogs on enemy prisoners they deem terrorists.
How much more serious does it have to be if in a US prison, like in Blount County Jail, [individuals] who wore black uniforms, black balaclavas, flak jackets and laced, parachutist-like boots, ski face masks revealing only their eyes, and helmets with these fiber glass visors to boot, not identifiable to what police or prison service these uniformed people belong, [were terrorizing inmates]! They and their dogs were hysterical. They were constantly shouting at us prisoners, [who were] lying face down, hands cuffed with Israeli-type plastic handcuffs behind our backs. A dog, about two feet away from me, was so vicious and angry that it kept rearing upon its hind legs, his paws in the front stabbing in the air, jerking wildly on the leash. It had no muzzle. I was so close I could see and hear the dog's teeth excitedly crash together in an awful sound. I saw his wild eyes and his frothing, drooling mouth. His spittle dripped on the floor next to me; some hit my arm, my prison uniform, and collected on the floor. There were dog handlers at each end of the "range" where about 50 prisoners - all civilians, all Americans - were lying on the floor, trussed like turkeys, [who] were being terrorized by these dog handlers, much to the amusement of black-uniformed women filming us with their handycam video cameras. Laughing!!!
Ingrid, the news casts last night triggered something in me that I had suppressed in my memory - because you know that I was once before, in April 1985, involved in such a traumatic dog attack after I was released from Canadian prison after my first conviction. As I was lying on my prison bunk [in Mannheim], it came to me that I had the names of two inmates and two lawyers who would have news or reports about these inmates being terrorized by these dog handler terrorists - that they were not prison guards. Our guards in Tennessee Blount County had totally different, easy to identify uniforms! They were not integrated with those dog teams or those women! They were not from within our prison! They were outside units! (The weekends when they came with those dog teams were 8 February and 15 February 2003)
I told you that I shared a cell with a chemical engineer from the Knoxville area. His name was [omitted]. He was the one who aggravated the prison guards at all hours of the day and night be calling them on the intercom, sometimes at 2 or 3 a.m. Well, one morning early, [guards] stormed into our cell. I was on the top bunk. They shouted at me to get down, to take my mattress and bedding and my miserable few belongings along and to get out of the cell. They dragged this engineer off his bed, threw him on the floor, started to punch him randomly while I was trying to get by them, wondering about this behavior of US prison guards. An older, mid-fifties Mexican captain by the name of Gonzales, or a name similar to it, turned to me and actually apologized, leading me outside. He told me to wait in the large range room where we would eat our meals and take our walks. (I never got one minute's daylight or fresh air in the time I was there.)
These six guards, most of them fat, [blubbery] Whites, kept punching and kicking that poor screaming guy who was trying to shield himself from the kicks and punches. There was blood on the floor, on the wall, on his uniform. When he no longer defended himself, they dragged him by his leg - like they had dragged me to the dog handlers - in full view of other prisoners in the next range which was separated by a wall with top-to-ceiling wood-framed glass panes. We could see each other; thus, the other prisoners not only heard the screams, saw the pounding, and saw this man dragged out of the range all along the floor to some arrest cell, trailing blood, staining the floor and the walls up to 5-6 " along the route.
Since I had extremely high blood pressure, each day I was taken to sick bay to have my blood pressure taken. I was in a long line, shackled in thick metal link chains, with padlocks around the waist, hands cuffed and feet in cuffs and painfully chained to the other 7-8 prisoners, as we snaked along those blood-stained floors and walls. I met [the engineer inmate] once being led away from the doctor's office in the presence of a single guard. His face was black and violet-blue, his eyes were blood-shot. He shouted to me he was sueing the Blount County Jail.
There is another witness whom I befriended there. He was a 22-23 year old, nice and skilled garage mechanic who had his own shop in Maryville. He was 6-7 weeks away from release at the time - some problem with stolen car parts, vehicles etc. His name was [omitted]; he lived with his wife and baby at [omitted]. He will remember me well. I liked him; he was a decent kid who got into hot water. He would know [the names] of the other inmates. They were all local - car thieves, drivers without licences, drinking while under suspension etc. There would be lots of witnesses to corroborate my story.
There was one chiropracter there, from Sevierville or Pigeon Forge, a somewhat greasy type of darker complexion. He was on the floor, same room, trussed like me, on the other side of the range. Scared like everybody! His name is [omitted] (Š)
All we need is witnesses to corroborate my story with the dogs!
[Our reporter friend] could blow the lid off a national scandal larger than Abu Ghraib if it is handled properly. It would make that man and his paper world famous and help us nail these creeps who think they are unreachable. If a US soldier is already found guilty overseas in a war zone, imagine how the media will like this story!
I will try to send you photocopies out of German newspapers of the cells in Abu Ghraib, the dogs, the orange-suited prisoners in Guantanamo, the cells there, which were exactly like mine in Thorold and in Toronto - Ingrid, down to the yellow-cream color and orange T-shirts etc. Only in Guantanomo, they had better pillows than I had!
What a life for me, Ingrid! Amazing!
One thing important for [the reporter] to understand is the hostage dimension. Rendition is one crime; dogs to terrorize prisoners is quite another - but to do it in the way it was done and for the purposes it was done makes this one of the most callous, in-your-face chutzpah crimes these people have pulled off in broad daylight! It's only because our own people on our side of the political spectrum are such utter failures and incompetents in utilizing the political processes available to us that these people have, so far, gotten away with it. I realize each time I speak to the lawyers what you told me years ago - I always thought you were exaggerating - that you had never met anyone with a better overview and grip on the situation. Only now do I [realize] that you actually were right. Ingrid, it is painful to me to have to be a school master to lecture [people] on the international implications and connections - how it all fits together. Why each part in each country fits together in an overall pattern and picture.
I am finally beginning to understand what it is that so unnerved these people for so long in so many cases and places. Which also means that now that they have their prey in their claws, they are not going to let go easily!
But you see? Every once in a while, issues come up, like this soldier [with the dogs], or these US renditions and overflights, which will give us a chance [to explain to press people] what really are the underlying reasons to what is going on.
---
9/11 Detainees in New Jersey Say They Were Abused With Dogs
By Nina Bernstein
The New York Times, Monday 03 April 2006

The photograph, seen worldwide, is one of the defining images from Abu Ghraib: a dog strains at its leash, lunging at a terrified prisoner in an orange jumpsuit. One United States military dog handler was recently convicted of abusing detainees at Abu Ghraib, the prison in Iraq, and the court-martial of another is to start in May.
But for Ibrahim Turkmen and Akhil Sachdeva, the image evokes something closer to home: the dogs used inside the Passaic County Jail in New Jersey. The two men, plaintiffs in a pending class-action lawsuit known as Turkmen v. Ashcroft, were among hundreds of immigrant detainees held in the Passaic jail for months after 9/11 before they were cleared of links to terrorism and deported on visa violations.

Until now, lawsuits brought by former detainees against top American officials have focused attention on the maximum security unit of a federal detention center in Brooklyn where the Justice Department's inspector general found widespread abuse. But today in Toronto, as Mr. Sachdeva, a Canadian citizen born in India, gives his first deposition for the class-action lawsuit, the spotlight will shift to the New Jersey jail.

There, about 400 of the 762 mainly Muslim detainees rounded up in the United States after 9/11 were held. The lawsuit charges that the detainees' confinement was arbitrary, illegally based on their religion or national origin, and that guards routinely terrorized them with aggressive dogs.

In November 2004, federal officials who oversee the detention of immigrants facing deportation said they would no longer send detainees to jails that used dogs to patrol inside. That decision by the Department of Homeland Security came a day after National Public Radio broadcast an investigative report saying that the dogs had been used over a three-year period to intimidate, attack and, in at least two cases, bite immigrant detainees in the Passaic County Jail.

"To hear about the use of dogs in this way within the United States is truly shocking," said Jonathan Turley, a professor of national security and constitutional law at George Washington University, who is not involved in the case. "But Abu Ghraib didn't spring from the head of Zeus."

Mr. Turley, an expert in prison law, said in an interview on Friday that the use of the dogs to frighten detainees in the New Jersey jail underscored "the trickle-down effect" of the disregard for immigrants' civil rights that top government officials showed after 9/11. "It trickled down through military intelligence, through low-level personnel and to sheriffs," he said. "Suddenly people who were predisposed to the use of such harsh measures thought they had license to use them, and 9/11 gave them a great appetite."

While dozens of jails and prisons that house federal immigrant detainees use dogs, largely to search for drugs, only seven used them to control prisoners. Jail officials defended the dog patrols, which were used before 9/11 and continue for control of other inmates. Bill Maer, a spokesman for the Passaic County sheriff, Jerry Speziale, denied that the post-9/11 detainees had been mistreated and said that the dog teams are used "strictly for security and contraband detection purposes" and "act in a professional manner when interacting with inmates."

But the dogs were described as part of a nightmarish form of psychological torture by the two plaintiffs, who spoke in separate telephone interviews last week - Mr. Turkmen from Konia, Turkey, and Mr. Sachdeva from Toronto.

Two or three times a week, they said, often around 3 a.m. when the detainees were fast asleep in dormitory cells housing about 50 men, the electronic doors would open and 10 to 20 officers would rush in with four to six unmuzzled, barking dogs on leashes. The dogs, mostly German shepherds, would strain to within inches of the detainees' faces, they said.

"The guards would barely be able to hold the dogs back," said Mr. Turkmen, who could not come for his scheduled deposition because he was denied a visa by the Canadian government, without explanation. "The day of judgment would begin for me - that's what it would feel like."

Mr. Sachdeva said that he found himself trembling uncontrollably, and that some detainees started to cry. "The guards who were holding the dogs used to always laugh," he recalled. "There were like four or five dogs, barking, terrorizing, and the officers shouting: 'Get up! Raise your hands! Against the wall!' One time the dog was so close his tongue touched me."

It was worst, they said, for detainees who, like Mr. Turkmen, lacked English to understand the officers. Once, Mr. Sachdeva said, a Pakistani man of 51 who did not speak a word of English was beaten bloody by guards because he had stayed on his bed after twice being ordered off.

Government officials will not discuss the lawsuit, brought in 2002 by the Center for Constitutional Rights. But when the Justice Department's inspector general criticized the post-9/11 detentions of immigrants in a scathing 2003 report, John Ashcroft, then the attorney general, said he had "no apologies" for measures taken to protect the public.

Nevertheless, after the inspector general's report, "there were changes made and new detention standards issued nationwide," said Dean Boyd, a spokesman for Immigration and Customs Enforcement, part of Homeland Security.

The report found conditions at Passaic considerably less harsh than those at the Metropolitan Detention Center in Brooklyn, where solitary confinement was the norm and beatings of shackled detainees were caught on videotape. But it criticized Passaic for mingling immigrant detainees with felons, and it said that immigration officials had failed to properly monitor the jail and to investigate complaints of abuse.

It told of a detainee with a black eye and a limp who told investigators that he had been assaulted by guards and put in an isolation cell, where guards brought a dog. He said the guards told him "that if he did not get out of bed by the next day, they were going to 'let the dog loose.' "

The report criticized the way federal authorities swept up immigrants after 9/11 as "indiscriminate and haphazard."

Mr. Turkmen, who has four daughters, now 7 to 19, had overstayed a tourist visa to work at a gas station in West Babylon, N.Y., when federal agents came to his apartment. Though an immigration judge agreed to let him leave voluntarily, a standard option in minor immigration violations, he was held for four months more.

Two years after his return to Turkey, he said, he saw a news report about Abu Ghraib and the dogs. "I told my children that this exact form of torture is what I experienced," he said through a translator. "All my children were completely shocked."

Mr. Sachdeva, who is Hindu, had returned to the United States to complete his divorce from an American woman who owned a gas station in Port Washington, N.Y., when F.B.I agents came there looking for someone else.

"At this point I have no faith in the system," said Mr. Sachdeva, 34, who said he was now self-employed as a metals trader because his arrest and deportation made it impossible to get a job. "I'm glad at least I can speak what really happened."



---
---
---
Contact the Zundelsite:
3152 Parkway #13, PMB109,
Pigeon Forge, TN,
37863, USA.
E-Mail:
Ingrid Rimland:
irimland@zundelsite.org