So far Germany has paid over DM 120,000,000,000 in repatations.
And the number is increasing:

---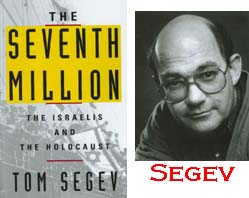 In March 1952, just days before the negotiations with Germany began, Yohanan Bader said: "Suppose they pay you for six million Jews, but when the reparations period is over, . . . where will you get six million more Jews so that you can get more money?" ... Haim Landau called out in Yiddish to Shmuel Dayan (Mapei): A glik hot unz getrofen (lucky us!) six million Jews were murdered and we can get some money."
Page 222 - Seventh Million
---
Index of Zundelsite documents on the Holocaust Racket
---
"...Adenauer noted in his memoirs that he knew better than to underestimate the ability of ìJewish banking circlesî to bring his country harm. [German-Jewish leader] Goldmann, a tireless dissembler, exploited his image as one of ìthe elders of Zion,î sometimes to the point of making threats bordering on extortion..."
.

"Quite simply: No brainwash cycle - no Holocaust. No Holocaust - no Reparations or Guilt money. No money - chances are, no Israel!" .... "Add to that the reparations already paid by Germany - more than $120 billion Deutsche Mark, and no end yet in sight! - and you can see how valuable a tool the Holocaust has become to Israel."
.

"The reparations being paid out by the West German government today, said Weber, were paid out by people who were either not born or were just small children during the Hitler era. Yet they were being held responsible for what happened during that time. Thus, the German people were held as a people to be guilty for what happened during the war."
.

"He [Nahum Goldmann] dictated his conditions to Adenauer in 1950. He obtained DM 80 billion; that is 10 to 14 times more than the sum he first expected. He says, "Without the German reparations (...) the state of Israel would not have the half of its present infrastructure (1978); every train in Israel is German, the ships are German, as well as electricity, a big part of industry...without mentioning the individual pensions paid to the survivors (...). In certain years, the amount of the money that Israel received from Germany would exceed the total amount of money collected from international Jewry - multiplying it by two or three times."
.

"Let's see now how it all began--and evolved!--this matter of the "Nuremberg Trials" resulting in such guilt and such enormous sums of reparations squeezed out of a defeated country, Germany over the last 50 years."
.

"Jacob Robinson was, in fact, a cunning East European Jewish shyster with a diabolical plan and agenda. He was the inventor/creator of the "revolutionary concept" of the idea of the Nuremberg Trial for Germany's leaders and the German Reparations scheme."
.

"Zündel has warned since 1981 that, when dealing with Holocaust survivor claims, ". . . industries and even banks and governments are dealing with a ghetto gangster mentality hiding behind pin-striped suits, taxpayer-supported 'Tolerance Centres', 'Shoah Shrines' and phony charitable organizations."

.

Zundel "Another Voice of Freedom" Audio Catalog - 1996