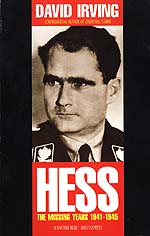 Hess: The Missing Years by David Irving

Until now, nobody has been able to explain Hess's action nor his subsequent eccentric behavior at the Nuremberg Trials. But David Irving's prodigious research has uncovered secret records kept by British medical officers during Rudolf Hess's internment. From these and other sources, Irving is able to answer many of the questions which have perplexed historians for half a century.

Reviews:

The Listener:

"[This] is a brilliant study of one of the last great Nazis which throws new light on the man's physical and mental health during the period. Impressively illustrated and with comprehensive notes, it is a work of major importance. Characteristically forceful."